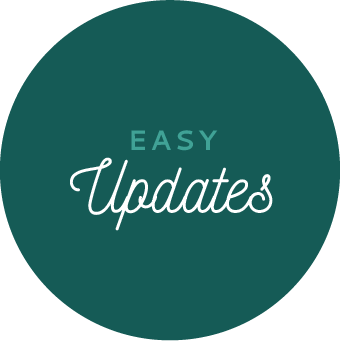 Contrast Light And Dark Colors To Refresh Your Room With Ease
Do you have a room that's dark and dingy? One that lacks wall decor or desperately needs a quick pick-me-up? Then it's the perfect time to try a contrasting color refresh!
Contrasting colors are one of our favorite ways to make a room feel bigger and brighter, because they also create a stylish sense of tension. To get the look in your space, walk into the room that needs it most and just see where your eyes land. Is it the bare windows? The dull walls? Choose one or two aspects of the room to refresh and focus your energy there—this will prevent you from feeling overwhelmed and ease your space into the style shift. Once you've selected your target areas, choose the colors you'd like to incorporate. We love the use of dark and light to create a bold, dramatic impact, but you can tailor the colors to your own interior style and decor. Black and white are, of course, classics but you should also try cream and turquoise, gold and navy, or blush and charcoal. Use the color palette you choose to make small changes that'll leave a big impact!.
6 Ways To Contrast With Style
Inspire Your Inbox
Get trendy tips + exclusive discounts that'll bring your home to life.