Creating the Perfect Home Takes Vision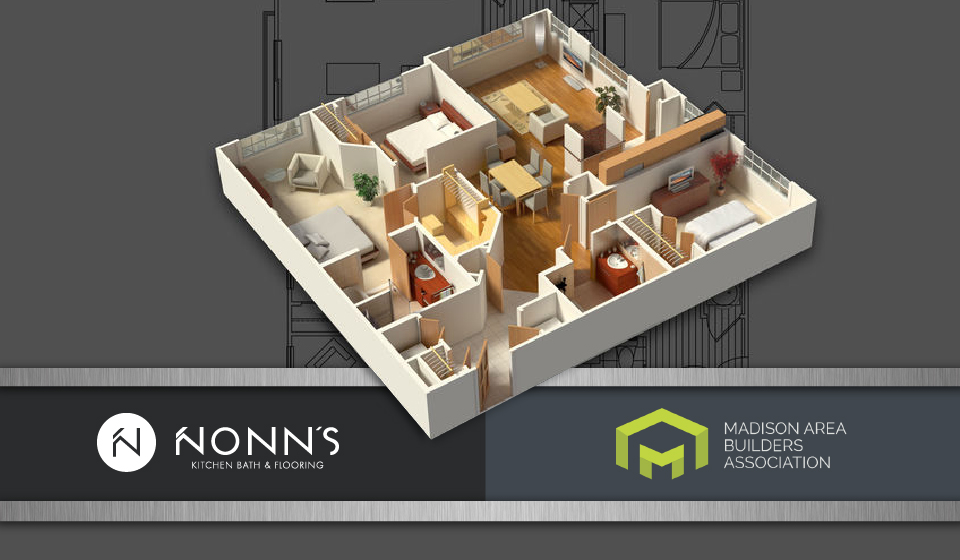 Wisconsin State Journal, June 2016, Madison WI: Building a new home or remodeling an existing home is one of the most rewarding ventures you can undertake. During a process that can take months, or even years, it is essential to have a cohesive vision. If that sounds daunting, it doesn't have to be. Here are a few tips from design experts that can eliminate any concerns you may have and ensure an enjoyable experience.
Start by prioritizing your wish list. What is your ultimate goal: increased square footage? Updated style? Do you want to incorporate new features–such as an island sink or a double-door fridge? Maybe you would like to replace the living room carpet with bamboo flooring.
"I like to start with life style questions," states Niki Parrish, flooring designer at Nonn's Middleton location. Who uses the space: Children?  A grandparent?  Pets?  And then how are the spaces used:  Does the kitchen cater to multiple cooks, chef-style meals, or takeout and microwave cooking?  Is the bathroom used only for guests or is it showered in daily?  Does the family hang out on the carpet in the living room, or do the kids build with Legos or roll cars around?" All of these answers bring clarity, allowing the designer to understand the situation even better, and make informed recommendations.
The next step is to commission a master plan before the project begins.  Since you are investing considerable time and money, you will want the plan to be the primary reference for every step of the construction process. A master plan is a drawing done to imagine the project as a whole. It illustrates large areas, and it assists you in understanding the connections between rooms and spaces. It is a useful tool in visualizing whether the home will satisfy your everyday, functional needs. Until you see the entire design on paper, it may not occur to you to ask questions. Do you really need a third bedroom? Can the laundry room be enlarged to accommodate a dog-washing?
"For a remodel" offers Lauren Johnson, cabinetry designer at Nonn's East Madison store," one of the most useful considerations is determining what someone does and does not like about their existing space.  People tend to think that if it is there, it needs to stay even if they don't like it."
"For example," says Niki, "the decision to scrap the Master Bathroom Whirlpool and replace it with a walk-in shower is something that happens often.  If I meet with a client that says they never use the tub then I have a conversation with them about using the space for a larger shower, more storage, an extended vanity, or simply more space in their bathroom layout."
Once you've discussed your master plan with an experienced design professional they can steer you in the right direction and help pick out design selections that reflect your personal taste. Using resources like Houzz, Pinterest and HGTV.com to find looks you love before you meet can be a big help.
"Bringing in the floor plan or pictures of the existing space is unbelievably helpful as well," says Lauren. "Other items to bring, especially for a remodel, are samples of anything that will remain in the space: a piece of trim to match finishes, a cabinet door or drawer, a countertop sample, or sofa pillow."