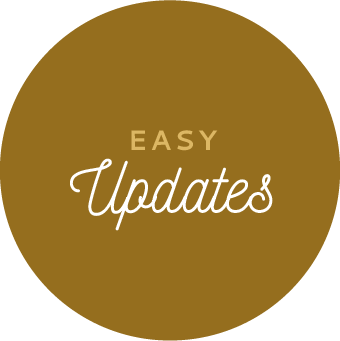 Fill Your Kitchen With Flavor By Wallpapering Your Appliances
Do you have an ugly and outdated dishwasher? A boring and bland refrigerator? Well, it's time to spice them up a bit with some bold, peel-and-stick wallpaper! By papering your appliances in a zesty color or a lively pattern, you can fill your entire kitchen with flavor without so much as lifting a spatula. Here's the recipe:
Step one: pick your appliance(s). While your fridge is the lowest-hanging fruit, we suggest papering your dishwasher, too! Step two: measure all the surfaces you want to paper—the doors are a given, but make sure to get some paper for the sides of your fridge if they're exposed. Whatever your measurements come out to, add a few inches to all of them to give yourself a little wiggle room. Step three: now comes the fun part—it's time to pick your paper! Think bright colors, bold patterns or complementary neutrals. Once it arrives, just follow the application instructions, and get ready for a kitchen filled to the brim with flavor!
COMPLEMENTARY NEUTRALS
BOLD PATTERNS
BRIGHT STRIPES
VIBRANT COLORS
Inspire Your Inbox
Get trendy tips + exclusive discounts that'll bring your home to life.