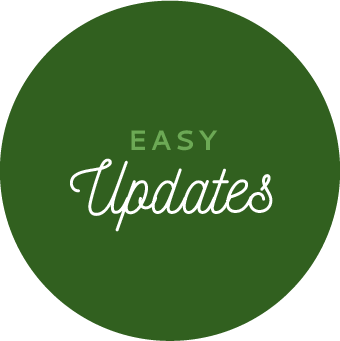 GIVE YOUR HOUSEPLANT A FRESH NEW LOOK
From faux plants to the real deal, nature brings freshness and warmth to your home like no other. But even the most stylish plants can use a wardrobe refresh every now and again! Here are a few of our favorites:
Pretty much every store-bought plant comes in a plastic holder or a mass-produced pot. And, while some of those pots can be stylish, we like to slip our fauna into something a little more comfortable (and chic), like: a macramé hanging plant holder, a colorful planter that pops, or a woven basket! Of those three, though, woven baskets are our personal favorites, for many reasons—they're chic, unexpected, they come in all shapes and sizes, and they add a nice pop of texture to a space! At the top of our list are the two-toned, the color pop, and the tall vertical options. Whatever wardrobe change you choose, just make sure to line the bottom of your basket with a sheet of plastic to prevent water from dripping through the gaps and onto your floors. That way, your plants will have a stunning new look with no mess. Enjoy!
HOW TO GIVE YOUR PLANT A BRAND-NEW LOOK
PICK A PLANT TO DRESS UP
SELECT YOUR BASKET STYLE
LINE IT WITH PLASTIC
SLIP IT IN INTO ITS NEW OUTFIT
Inspire Your Inbox
Get trendy tips + exclusive discounts that'll bring your home to life.