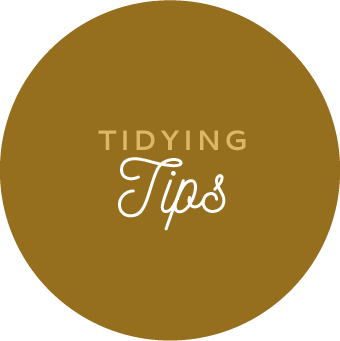 SPRING CLEAN YOUR SHELVES IN JUST 3 STEPS
It's no secret that shelves can quickly become overcrowded eyesores. They're often dumping grounds for old accents, books you'll never read again, and various other little knickknacks. But worry not—simplifying your shelves is extremely easy, incredibly satisfying, and the perfect thing to kickstart your spring cleaning routine! Here's how:
The following pro tips work (and look) best with spacious, built-in shelves like you see in the pictures, but they can be applied to just about any shelf in your home. To begin your bookshelf makeover, clear it entirely. Every masterpiece begins with a blank canvas, after all. Then, focus on the bottom shelf and work your way up. We like to add something large and simple, like a basket or two, to ground the space. Anything more can make the entire bookshelf feel cluttered and disorganized. Next, choose a focal point for each level. This could be something like a vase you love, framed artwork or a few selected books. Finally, fill in any gaps with smaller items and seasonal décor. We like using candles, greenery and contrasting colors and textures to add visual interest to each shelf. Ta-da! You've created an intentional, stylish bookcase with shelves that you'll love looking at!
3 SIMPLE STEPS TO INTENTIONAL SHELVES
START WITH SOMETHING SIMPLE
ADD A FOCAL POINT TO EACH LEVEL
FILL IN THE GAPS WITH STYLE
Inspire Your Inbox
Get trendy tips + exclusive discounts that'll bring your home to life.