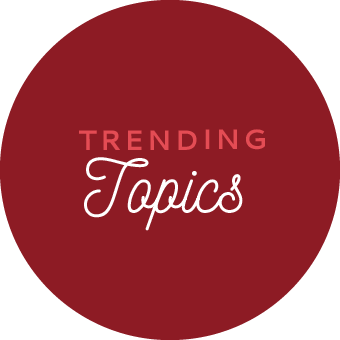 GET ALL-AROUND STYLE WITH ROUNDED FURNITURE
Say hello to gentle, sloping sofas, curvy coffee tables, and ornate dining chairs because rounded furniture is all the rage right now—and for good reason! Curved furniture fits any interior style, making it a quick and simple way to rethink and refresh a space. Here's how:
Angular furniture has been a staple in home design for decades, but those angles have softened a bit lately and rounded furniture is moving into the spotlight. In addition to being incredibly stylish, curved furniture helps soften a room's aesthetic, making it feel comfier and cozier. To make your space more curvaceous, try adding rounded a club chair or a circular ottoman in your living room. Or, accentuate the curves in your dining room with a few on-trend wicker chairs. The softened edges of these rounded chairs helps move the eye through the room, while adding a sense of understated elegance. Just make sure to allot a bit of extra room for those rounded beauties—without a flat back or straight angles, those curves take up a bit more space than you might think. But, trust us, they're worth every extra inch!
WHY TO LOVE YOUR CURVES
SOFTENS THE SPACE
FITS ANY INTERIOR STYLE
CREATES A FOCAL POINT
COMPLIMENTS ANGULAR COUSINS
Inspire Your Inbox
Get trendy tips + exclusive discounts that'll bring your home to life.