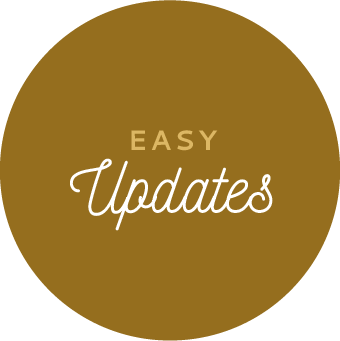 THE ONE INGREDIENT YOUR KITCHEN IS MISSING: WHIMSY!
Every kitchen is equipped with the essentials: sink, cabinets, appliances, eating area. Most even have a healthy amount of style. But what very few kitchens possess (and desperately need) is whimsy! Whimsy is the spice of life. It's chicken soup for the soul. And it has the power to turn your kitchen from a bland space to a room brimming with energy and life. Here's how we mix it into our space:
All it takes to bring a dash of whimsy into your kitchen is a few pieces of wall art or countertop décor! When choosing art for your kitchen, think of the neglected spaces. That bare spot above and behind your stove? Plop in a few tasteful food-related frames! The narrow wall next to your fridge. Spice it up with a slim floral print! An oversized wall near your dining table? Fill it with an oversized abstract piece! All of those spaces offer the perfect opportunity to spice things up a bit, show off your unique style, and bring some whimsy back into the kitchen. It's that simple!
Whimsy In One, Two, Three
Find Unexpected Spot
Select The Right Size
Get Quirky With It
Inspire Your Inbox
Get trendy tips + exclusive discounts that'll bring your home to life.