Nonn's Presents Madison's Third Annual Fall Parade of Homes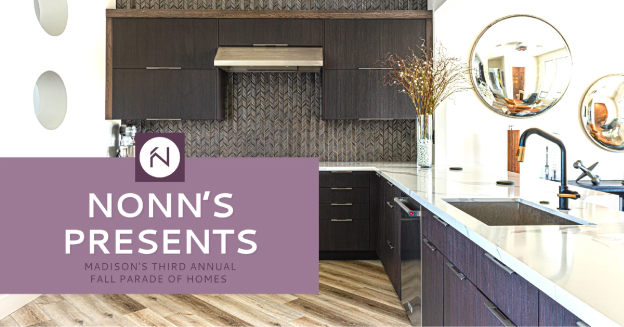 Nonn's Presents Madison's Third Annual Fall Parade of Homes
October 14, 2022–Madison, Wisc., Nonn's announced it will once again be the exclusive sponsor of Madison's Fall Parade of Homes. This year's Parade will feature 21 homes across Dane County from a variety of builders and price points.
"Nothing compares to the Parade of Homes," says Kelly Lehr, President of Nonn's. "Collaborating with the builders to put finishing touches on these stunning homes makes it all worth it. That's the thing! Not only is it inspiring to tour these homes, it's the perfect time to meet some of the area's finest home builders. They're the stars of the show."
The Fall Parade of Homes will take place October 14-16 & 21-23, 2022. It will feature houses in individual neighborhoods around Dane County, ranging from model homes to multi-million dollar homes. Each site will showcase unique features and various styles, including farmhouse, craftsman, suburban and rural.
Nonn's is no stranger to the home renovation scene. With over 30 years of experience under their belts, they are a natural fit to sponsor this event. Many of the homes in the Parade this year feature products from Nonn's. Whether it's modern appliances, flooring, cabinets, or anything in between, Nonn's is proud to have helped bring these builder's visions to life. For more information about Madison's Fall Parade of Homes or to purchase tickets to this year's event, visit: https://www.madisonfallparadeofhomes.com