Nonn's Honored with Two "Best of Madison" Awards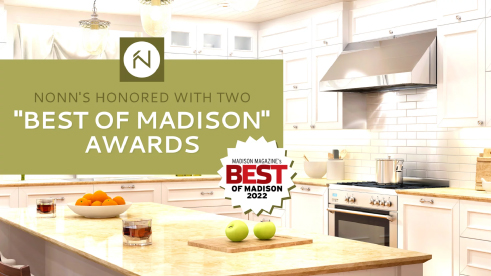 Nonn's Honored with Two "Best of Madison" Awards
June12, 2022 –Madison, Wisc., Following a month-long voting period, Nonn's has once again received two Gold "Best of Madison" Awards. Madison residents recognized Nonn's for outstanding service in both categories for which they were nominated: Kitchen & Bath Design and Flooring Retailer.
"Nothing makes us prouder than serving our community well, which is what makes these awards so meaningful to us," said Adam Nonn, President and CEO of Nonn's. "We can't wait to keep meeting and exceeding our customer's needs."
Nonn's has been a trusted source for kitchen, bath, and flooring products in Wisconsin for over 35 years. Its expansive selection of countertops, cabinets and appliances make it the go-to for homeowners looking to create their dream home. Aside from their award-winning service and wide array of products, Nonn's also has an immersive showroom and complimentary design consultations to help homeowners create spaces as unique as they are.
About the Best of Madison Awards
The Best of Madison Awards are hosted annually by Madison Magazine. The awards highlight outstanding local business in areas such as Dining and Drink, Home and Lifestyle, Arts, and more. For more information on the Best of Madison Awards, click here.