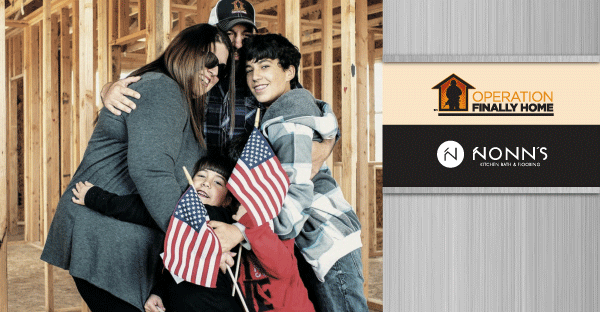 NONN'S BUILDS FREE HOMES FOR INJURED VETS
The Wisconsin-based home design retailer partners with Operation Finally Home
Operation Finally Home, June 2016, Wisconsin: After a successful first collaboration with Operation Finally Home in 2015, Nonn's renewed their commitment to the program this summer and handed over the keys to a home in Jackson, Wisconsin on June 4. Now, they plan to donate flooring, cabinetry, countertops and appliances, as needed, for a third project due to be completed next summer in a redevelopment district called Dunbar Oaks in the City of Waukesha.
"We are grateful to be a part of this program," said Nonn's CEO and President Adam Nonn. "We have a showroom in Waukesha and to give back to our immediate community is a great thing, but to help the people in our community who have sacrificed unimaginable things for all of us is an even better one."
If building a home seems complicated, then building a home with countless partners, both individual and corporate, who specialize in things as specific as windows to things as broad as finance should seem impossible. Nonetheless, Operation Finally Home brings communities together to erect custom-built, mortgage-free homes for America's military heroes and widows of the fallen.
The family who will receive the Waukesha home has not yet been selected – OFH works with caseworkers and the VA to select a candidate who meets a veteran's disability rating of 70 percent or more. For a family like Drew and Katelyn's, the recipients of the June 4 home in Jackson, Operation Finally Home is nothing short of miraculous.
Drew was deployed to Iraq in September 2005. His unit operated in an area of Baghdad colloquially known as the "Sunni Triangle of Death." While providing security during combat control, the vehicle Drew was in was attacked with a shaped charge explosion that engulfed it in flames. Though he fought to recover and return to his military career, the resulting post-traumatic migraines, tension, Tinnitus and Cranial Nerve Impingement forced his medical retirement from the Army. Following his discharge, he received a Purple Heart, an Army Commendation Medal, an Army Good Conduct Medal and now, he and his wife have received a new home.
Thanks to Operation Finally Home and collaborators like Nonn's, Drew and Katelyn won't be the last.