Former Nonn's Employee Completes Mt. Everest Trek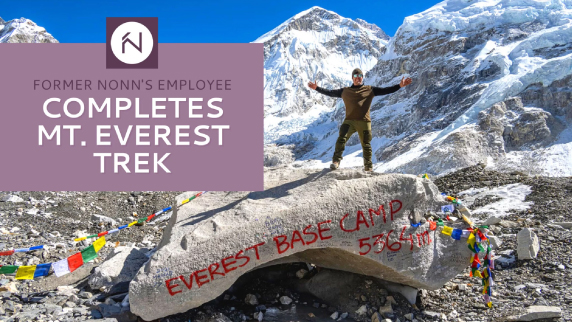 Former Nonn's Employee Completes Mt. Everest Trek
April 22, 2022 — Madison, Wisc., Former Nonn's employee Joe Garza recently returned from his remarkable journey to the base camp of Mt. Everest.
Joe, now a professional photographer, joined a group of fellow adventurers for the expedition organized by WE International, a non-profit dedicated to fighting injustice and poverty in the developing world.
In preparation for the trip, Joe reached out to Nonn's President and CEO Adam Nonn. "We were excited to hear from Joe," said Adam. "Nonn's is a big family, and anything we can do to help those in our community, or abroad, we will. We were more than happy to offer him support for this endeavor and incredibly proud to see him accomplish his goal."
Nonn's provided Joe with financial support, cold-weather headgear, and a special "Positivity" medallion—one of Nonn's core values—to carry with him on his trip of a lifetime.
From Nepal's capital, Kathmandu, Joe's group made the 16-day trek to Base Camp at an elevation of 17,598 ft. On arriving, Joe wrote, "What an incredible feeling of not only accomplishment but overwhelmed with joy for the reasons why we are here." While on Everest, he strung up traditional prayer flags, including some for Nonn's and other supporters.
As the official photographer for the trip, Joe documented the experience with a series of beautiful images of the people and places along the way.