Nonn's Celebrates Milwaukee Parade of Homes as Presenting Sponsor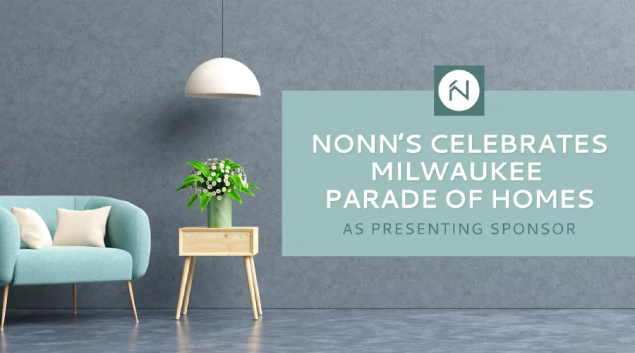 Nonn's Celebrates Milwaukee Parade of Homes as Presenting Sponsor
August 12, 2022 —Milwaukee, Wisc., Nonn's has partnered with the Metropolitan Builders Association as the presenting sponsor for this year's Parade of Homes, which will take place from August 13-September 5. This year's event will once again feature 15 remarkable homes in two of Milwaukee's most desirable developments: Twin Pine Farm in Lisbon, and Stone Ridge in Merton.
"It's always an honor to help bring the Parade of Homes to life," said Adam Nonn, CEO/President of Nonn's. "Seeing the homes and how they inspire participants is such an incredible experience, and we are happy to be a part of it."
Twin Pine Farm is a quaint neighborhood tucked way in the rolling green hills of Lisbon. Mostly surrounded by farm and wetlands, this subdivision has plenty of quiet trails, parks, and walking trails for residents to explore. Stone Ridge is a community spread over 130 acres with plenty of forested green space and nature paths to enjoy. Residents are able to relax and unwind in a more rural setting while still enjoying all that Merton has to offer.
Nonn's isn't just the presenting sponsor of the parade. Several of the homes on display feature a number of products from their showrooms. From appliances, to flooring and everything in between, Nonn's has everything homeowner's need to make their dreams a reality.
Once you've gotten inspired by the Parade of Homes, be sure to check out one of Nonn's showrooms to help bring your dreams to life. To learn more about this year's Parade of Homes go to: www.mbaonline.org/parade-of-homes-2022.html
(Article posted with permission of original author)