Nonn's Named People's Choice Thirteen Years in a Row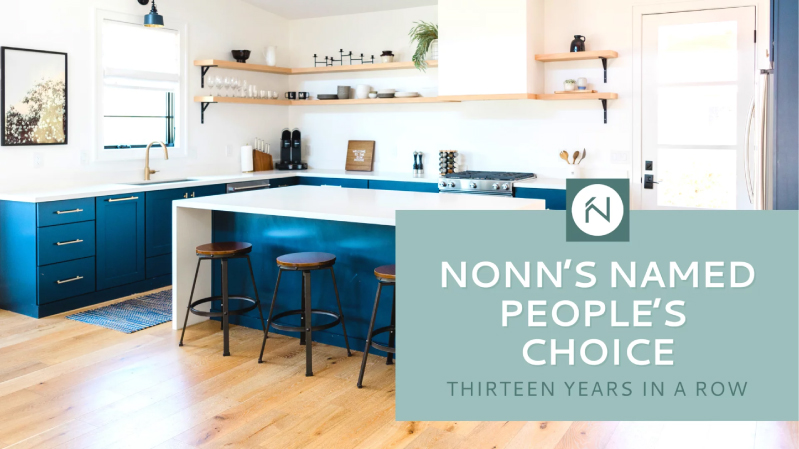 Nonn's Named People's Choice Thirteen Years in a Row
August 25, 2022 – Madison, WI., Nonn's has once again been honored as a People's Choice winner in Madison, making it the thirteenth year in a row. While some may think the number 13 is unlucky, Nonn's has shown its anything but —winning gold in every category they are eligible: Best Home Improvement Retailer, Best Marble/Granite Retailer, Best Flooring Retailer, and Best Appliance Retailer.
"Being named a People's Choice in our hometown is always an honor, but to win thirteen years in a row is even more meaningful," said Nonn's CEO, Adam Nonn. "This award is a true testament to the relationships we have built in the community. It is an honor and privilege to be trusted by our customers, and we are grateful for their continued support and enthusiasm. We are excited to keep building those relationships and improving our service in the years to come," adds Kelly Lehr, Nonn's President.
Even with so many wins under their belt, the retailer has no plans to slow down. With a wide selection of kitchen, bath, and flooring products, it's easy to see why Nonn's is the go-to for homeowners looking to make their dreams a reality. Aside from their award-winning service and wide array of products, Nonn's also has an immersive showroom and complimentary design consultations to help homeowners create spaces as unique as they are.
ABOUT THE PEOPLE'S CHOICE AWARDS
Formerly the The Star of Madison Awards, the People's Choice Awards recognize Madison's Favorite people, places, and businesses each year. The winners are determined by the number of votes cast by citizens of Dane County, Wisconsin State Journal readers, madison.com viewers, and beyond. For more information on the People's Choice awards, visit https://madison.com/exclusive/readerschoice/marketing/