Nonn's Sponsors 2021 MBA Home Building & Remodeling Show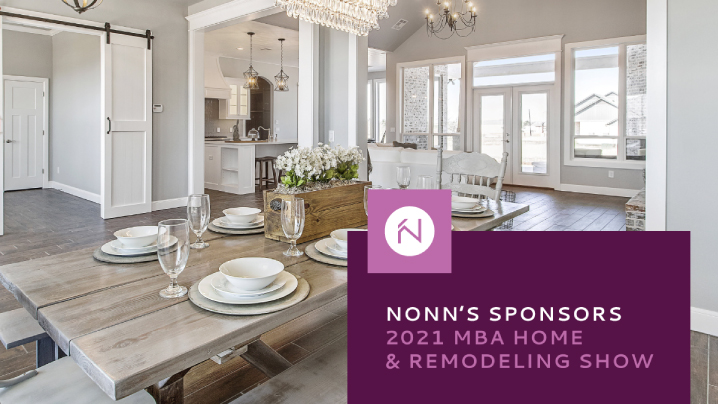 For Immediate Release:
Nonn's Sponsors 2021 MBA Home Building & Remodeling Show
Madison, Wisc. I April 23, 2021: Nonn's announced today that they will be the presenting sponsor for the 2021 Metropolitan Builders Association's 'Home Building & Remodeling Show' which is set to take place April 30th—May 2nd, 2021. Perfect for those planning to remodel or build their dream home, the annual event showcases the latest product innovations, smart home technologies, and design trends in the home building and remodeling industries.
At the show, individuals can safely browse the latest and greatest styles and trends, attend a number of free seminars from different vendors and businesses, and connect directly with the area's leading builders, remodelers, and design professionals. Nonn's will have their own booth at the event, where their on-staff style experts will be available to answer any home-interior questions, provide personalized design tips, and share the latest kitchen, bath, and flooring trends. Their booth at the show is intended to mirror the experience their customers have browsing their design showrooms, granite fabrication facility, and even their award-winning digital publication, The Insiders List.
"At Nonn's, we know how exciting it can be to embark on a home build or remodel journey," said Adam Nonn, CEO/President of Nonn's, "And, just like we do our showrooms, we're here to build on that excitement, to add inspiration where we can, and ultimately, to help bring those dream homes to life."
The show will be held at the Exposition Center at Wisconsin State Fair Park, Friday, April 30th from 12-8pm, Saturday, May 1st from 10am-8pm, and Sunday, May 2nd from 10am-5pm. Click here for tickets and more information. If you're looking for even more inspiration after the show, stop by and browse Nonn's newly renovated showroom location in New Berlin, Wisconsin.
(Article posted with permission of original author)