Nonn's Honored with Three ADDY Awards for Exceptional Advertising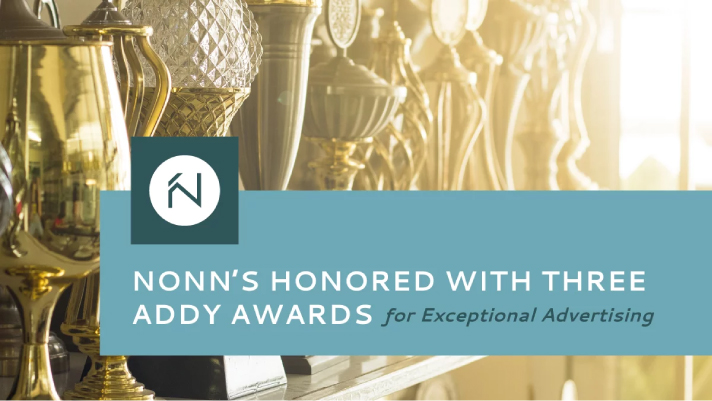 Nonn's Honored with Three ADDY Awards for Exceptional Advertising
June 3, 2021 – Madison, Wisc., The American Advertising Awards is the advertising industry's largest and most representative annual competition, with over 35,000 entrants each year. The competition recognizes and rewards the very best advertising campaigns in local markets with coveted ADDY awards. This year, Pop-Dot's work for Nonn's was honored for its creative excellence with three ADDY awards.
"We're absolutely thrilled," said Kate Ewings, Pop-Dot's Senior Director. "We've been able to produce some pretty incredible work together with Nonn's over the years, but the response it received this past year was nothing short of amazing. We'll definitely be channeling that positivity into this fall's creative campaign!"
Pop-Dot's work for Nonn's won awards in three distinct categories, one of which was the highly competitive Cross-Platform Integrated Advertising Campaign" category, where their "Reasons Why" campaign took home a Silver ADDY award. Additionally, Nonn's "Insiders List" was honored with two more ADDY Awards this year, making it the most awarded campaign in the brand's history. The success of the "Insiders List" is well-known in the industry, and credited with creating and fostering thousands of customer relationships through its stunning visuals and valuable content.
Founded over 35 years ago, Nonn's has become one of the largest retailers of kitchen, bath and flooring products in Wisconsin. Today, Nonn's offers thousands of styles and types of countertops, cabinets, and appliances, making it the go-to stop for Wisconsinites looking to create the home of their dreams. Beyond their award-winning advertising and expansive selection, Nonn's also boasts an immersive showroom experience and complimentary design consultations for any homeowner looking to reimagine their spaces.
(Article posted with permission of original author)