NONN'S HONORED WITH FOUR AMERICAN ADVERTISING AWARDS AT AAF ANNUAL COMPETITION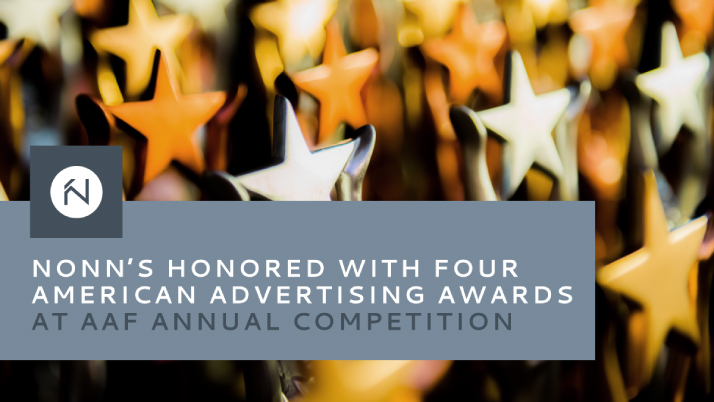 NONN'S HONORED WITH FOUR AMERICAN ADVERTISING AWARDS AT AAF ANNUAL COMPETITION
December 3, 2020 — Madison, Wisc., Every year, the American Advertising Federation hosts an annual awards competition called the ADDYs: it's the industry's largest and most representative annual competition. The awards represent the creative spirit of excellence in communications, and are given only to the best and brightest advertising efforts. Among the top advertising agencies to win was Pop-Dot, whose work for Nonn's was honored with four American Advertising Awards.
Kate Ewings, Pop-Dot's Senior Director, said of the awards, "We're absolutely thrilled for Nonn's. What we've been able to create together over the past seven-plus years has been truly rewarding. And if the past year has shown us anything, it's that having consistently strong marketing is incredibly valuable, no matter the circumstances."
Nonn's advertising efforts received multiple awards across four distinct categories, from interactive media to digital marketing. However, the crowning moment came when Nonn's "Insiders List," the brand's self-titled "relationship campaign" was honored for the fourth year in a row. And, for good reason. Not only does the Insiders List boast stunning visual design and valuable original content, it has enabled Nonn's to create and foster tens of thousands of customer relationships—relationships that span generations. It's this combination of innovativeness and effectiveness that has made this campaign the most-awarded in the brand's history.
While the Insiders List has contributed to the number and quality of customer relationships Nonn's has developed over the past 35 years, so has their immersive showroom experience—an experience that, earlier this year, earned them four gold "Star of Madison" awards. And despite showroom capacity being somewhat limited as of late, that hasn't stopped Nonn's innovating. From private, in-showroom appointments to immersive virtual consultations, they've used the used the creativity and imagination they're known for to find safe, yet inspiring ways, to continue building relationships and bringing their customers' dream homes to life.
Learn more about the Nonn's Insiders List here: nonns.com/get-insiders-list/
(Article posted with permission of original author)