Nonn's Wins Top Choice Milwaukee for Third Year in a Row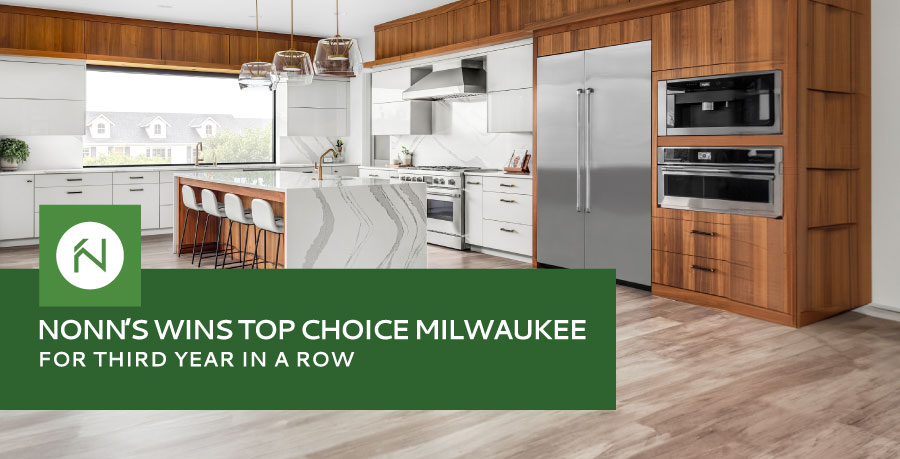 Nonn's Wins Top Choice Milwaukee for Third Year in a Row
July 26, 2023 — Milwaukee, Wisc., Kitchen, bath, and flooring company, Nonn's, has won several categories in Top Choice Milwaukee over the past three years—including 2023. The Wisconsin-based business has an ongoing streak of winning the public's trust, being seen as a go-to for home improvement and interior design, and flooring in Milwaukee due to their excellent service. Nonn's is known for their wide variety of flooring, cabinetry, and appliances.
"Thank you so much, Milwaukee. We're honored to win and we appreciate all your support," said Nonn's president, Kelly Lehr, of the win. "Because of you, we get to do our happy dance again!"
Top Choice Milwaukee has been an ongoing community voting event in the metropolitan Milwaukee area for nine years in a row. With over 100 categories and 5+ nominees each, the people of Wisconsin's largest city choose who they believe to be the best company in each category. Nonn's has been notorious for continuously winning in categories such as best flooring, best granite, best home improvement, best interior design, and more.
Nonn's is a kitchen, bath, and flooring company with locations in both the Madison and Milwaukee markets who have been serving the people of Wisconsin for over 30 years.